𝐉𝐚𝐢 𝐌𝐚𝐚 𝐄𝐧𝐠𝐢𝐧𝐞𝐞𝐫𝐢𝐧𝐠 𝐂𝐨 is one of the best Supplier in chennai which offers a full line of Bearings,Wire Ropes,Safety Equipments, Power Tools,couplings, chain sprockets,complete range of material handling solutions,mechanical power transmission, and motion control products etc. We provide a full range of products to virtually every industry including the Aggregate, Agricultural, Automotive etc and cater the mechanical needs of its clients.
𝐄𝐬𝐭𝐚𝐛𝐥𝐢𝐬𝐡𝐞𝐝 𝐢𝐧 𝐭𝐡𝐞 𝐲𝐞𝐚𝐫 𝐨𝐟 𝟐𝟎𝟎𝟕 this company is bearing stocks a full line of reliable and trusted products to serve the needs of our valued customers. With the combination of our inside and outside sales team, this leading firm can help you identify your problem, search for the product you need, and work together to find solutions.
Our expert sales team is trained and has experience that will provide timely service, competitive prices, and knowledge of the product to meet your needs and increase your productivity. With having a big storage space, our company has the ability to stock a wide range of products tailored to your needs, which results in local inventory for immediate service and less downtime. Our well known company name, reputation, and relationship with manufacturers of the product you are looking for helps us better serve you.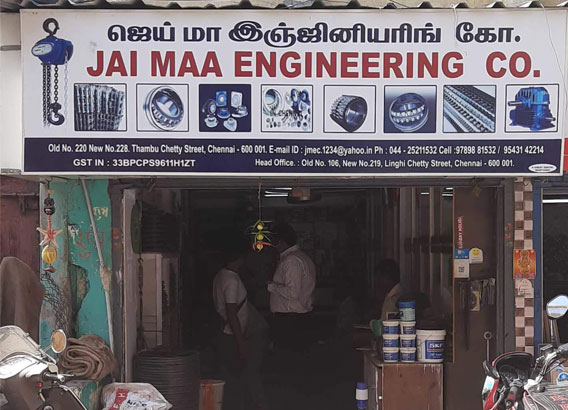 Client

Testimonials
Excellent Range of all industrial needs Conveyor Chains, Sprockets, Roller Bearings, Safety Equipments & Gear Box.
Vikram Jha
Nice customer service. Very helpful. Suggests the best bearing at competitive prices. Great response to customers.
Anant Bhagwan Pandey
Best Bearing Suppliers In Chennai and really good products sold by this place. Highly recommend this place for any of your Industrial bearing needs.
Mohammad travadi
I had been here to purchase some bearings, I really had a brief details about the quality which was really needed..and they provided me the best quality bearings. please do visit if you would want a best bearings.
Pankaj Sinha